About Silent
Dongguan Silent Industry Co.,Ltd is a group located in China.We have several manufactories for industrial and household appliance products. We design,develop and manufacture the gear,worm gear,stamped metal parts,Plus gearbox,Planetary gearbox and DC geared motor.The products we produced with high precision,low noise,long time life,high torque and anti-interference,they can be the substitute for some parts of same level importaned from US and European countries.These products can be applicated widely household appliances,office equipment,electric toy and model,medical appliance and equipment,camera and optical,personal care,power tools,building automation and industrial automation and so on.Our vision is become one of top manufactures of planetary gear motor in China and Silent to be famous brand in the world. Our mission is offer good quality products with reasonale price to customers,founded in China and export our products to all around the world,help all employee grow and realize their targets and dreams.
We are ISO 9001:2008 certificated enterprise.We consider the quality is the most important.We consistently focus our attention on the quality management system and we usually to use FEMA,PPAP and CPK analysis to improve it.The reasonable price and on time delivery are also the key points for all customers.All our staff consider customers' satisfaction as the highest priority.
Wishes from Silent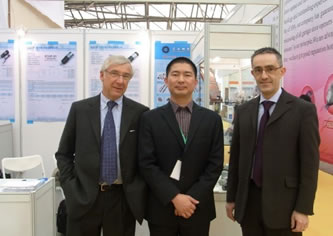 Mr.Zhong,the middle guy in left photo,is the founder and general manager of Silent.
"We're professional manufacturer for geared motor for years in China.I think the planetary gearbox and geared motor industry is a large potential market in all around world in future.So we're looking for business partner to work and develop together.Anyone who is interested,we can discuss it with more details.Wish you all the best ! "